ProductContent
Icon AirFlite Helmet - Gloss White
$
225.00
$265.00
$265.00
You Save:

$40.00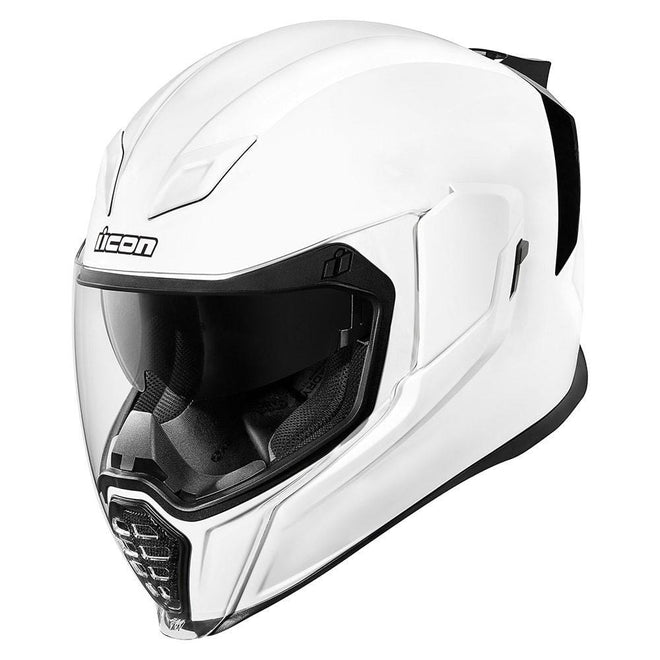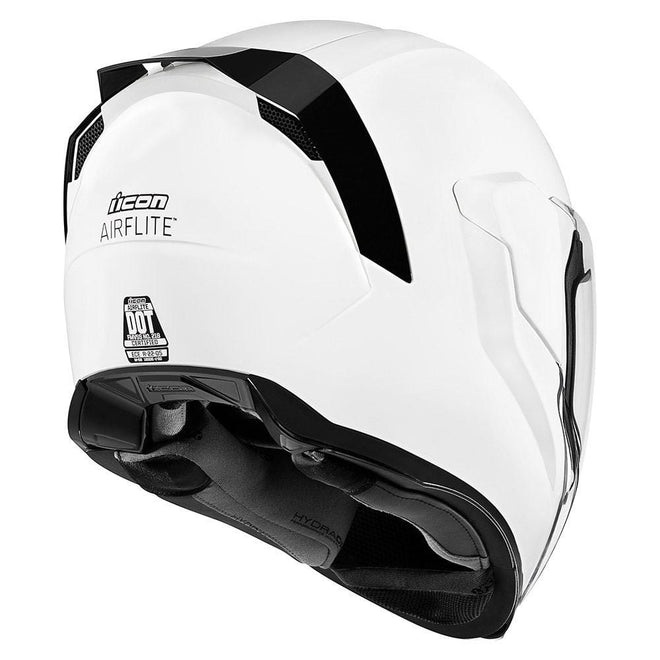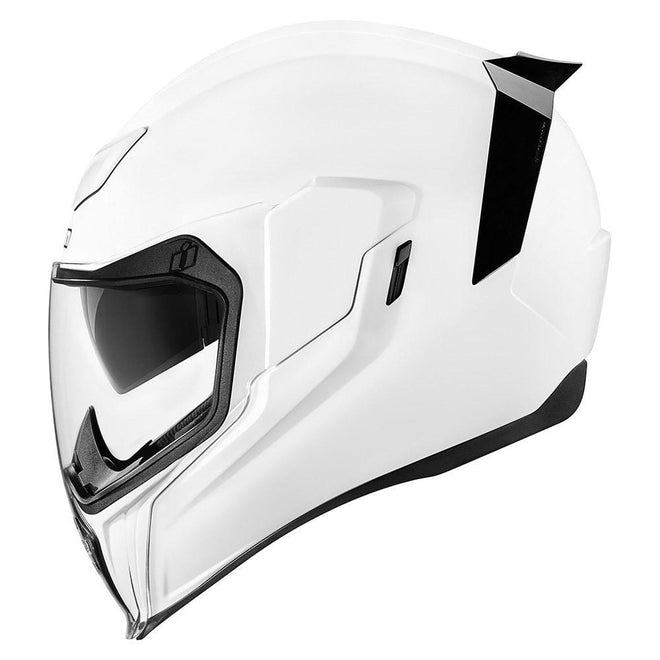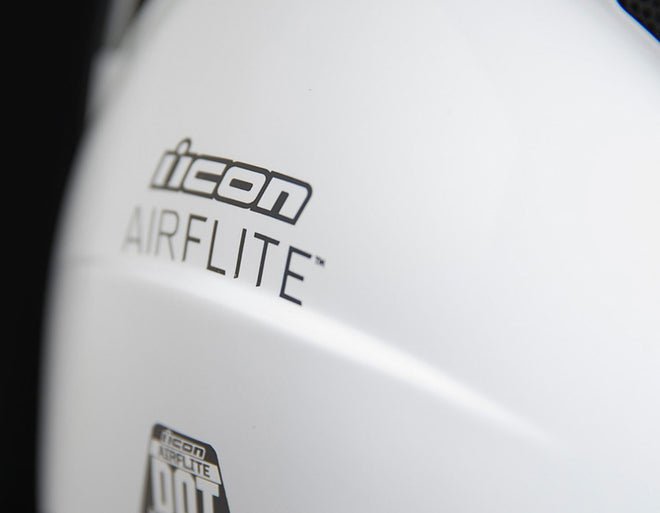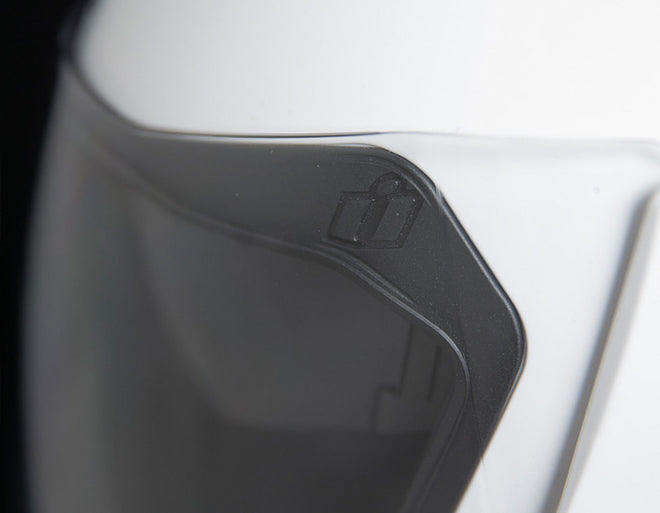 Icon AirFlite Helmet - Gloss White
$
225.00
$265.00
$265.00
You Save:

$40.00
Product Description
Description
BLACK OR WHITE SIMPLICITY IS THE ULTIMATE SOPHISTICATION

Simplicity is the ultimate sophistication. No branding, no graphics, no bull – the Airflite Gloss Solid kicks decoration to the curb and gets right down to business. Just like this copy.
WORLD STANDARD
Meets DOT FMVSS 218 (US), ECE 22-05 (Europe), & PSC (Japan) Helmet Safety Standards. Does not ship with PSC certification stickers unless purchased from an authorized dealer in that country.
SHIELD
Includes internal DropShield™ and Clear quick-change fog-free FliteShield™.

The Airflite has not one, but two shields. The unique quick-change fog-free shield keeps debris away from your money maker, while the internal interchangeable drop shield has the sun in check. No more swapping shields for cloudy or sunny days. Just reach up, flip the switch, and ride forever.
FIT
The most common helmet fit type, the Intermediate Oval head is slightly shorter front-to-back and a little wider side-to-side.
LINER
Removable HydraDry™ moisture wicking liner.

The removable sweat wicking Hydradry™ liner provides a snug and contoured fit. Air from the vents is channeled between the comfort liner and the protective,energy absorbing EPS foam liner to create a nearly perfect rider-focused interior. The airflow works in conjunction with the Hydradry™ liner to effectively reduce heat build up. Combine that with superior venting and a removable breath deflector which creates a nearly perfect rider-focused enclosure.
SHELL
Injection molded Polycarbonate shell for strength.

The helmet's ventilation system consists of strategically placed air vents, intakes, air channels and exhaust ports. The oversized chinbar intake enhances airflow, keeping you cool by routing air where you need it most. A decrease of both drag and weight was achieved by sculpting the traditional neckline of the Airflite to avoid jacket or suit interference.
VENTING
4 intake vents, including a MX inspired chinbar vent, and 2 exhaust ports are coupled with deep channeling in the interior energy absorbing EPS foam resulting in superior helmet venting.


Nice Lid
This is my 1st icon helmet
Decided to try something new since the visor has like a Hannibal Lecter face mask flow to it...
Went with an ReD faceshield/visor and waiting on matching spoiler ")
I've had other icon helmets (top notch/high end)
So I got used to the quality - the airfLite is not that one.
& it Feels Lowkey cheap "/ BuT looks doPe
Would still recommend buying. ")
Icom Airflite helmet
My first helmet with my first motorcycle. The reason I purchased it was because of the review read on the web as the best improved helmet of 2020. It's light, comfortable, well built and great price. They also come in colorful designs. I'm very happy. I'm 6 foot tall, 225 lbs. And got a size XL.
Can't go wrong with an Icon. Love it!
I'm a smaller girl and got the XS and it's perfectly snug unlike other helmets I had. It conforms to your face well and it feels just right ( though it take pressure to get it on and take it off) haha. Love it! Everyone compliments it too
Awesome
Very impressed with the complete design. Light weight. Breathable. Very easy to swap out the lens. I would definitely recommend this helmet!
Not bad but also not what I expected.
I have other top of the line products from Icon and I got used to the high end quality that I did not get on the airflite.
It feels cheap overall and very plasticie.
I bought it as a cruising helmet not something I would want or feel safe riding aggressively in but something I would put my hands free Bluetooth on it and use to short commutes and errands and I think for that it's not bad. Again I got used to GREAT from icon and this one is rated by my standard as not bad. Depending on your needs, I would say it's on the expensive side of this kind of helmets (but you get a unique and different design that I wanted) but I would still recommend buying.
Let customers speak for us